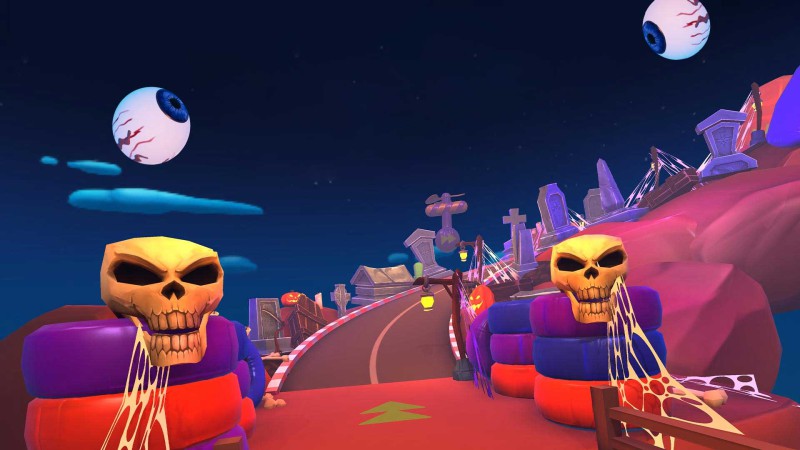 Halloween update

is here!
With the advent of the holiday season, Sourena games has put out the latest update for Hoomeez, putting out not only new content but massively improving the performance of the game! Some of the features of this update include the 5 stage Halloween changes on the Water Polo and football, UI improvements, new music and new Items and Skins. The developers also took in consideration the player's feedback and implemented their requested fixes such as the Racing match checkpoints, alongside the many bugfixes and optimizations.
Hoomeez is an online game with what is going to be years of extensive player support, and there will be a major content update for the game every three months. The Halloween update is the first to follow this principle, and will lay the groundwork for the rest. You can see the complete and detailed changelog of this update below.
1.08 Patch notes:
The Halloween Update is here!
New Content:
New Halloween Aesthetics
New Halloween Games
Following Levels added:
Bubble Level
Skeleton Cave Level
Triad Level
Infinite Level
Water Polo Level Changes
New Halloween Interface:
Thematic menus and animations
New loading screen
New background music:
Levels
Menu
Loading
Halloween Items and Skins:
Discounted Items and special Halloween chests (Only for 3 days)
New skins in the store (Event exclusive):
Pumpkin
Zombie
Mummy
New racing mode vehicle
Changes and Improvements:
New Cursor
Better Collision to prevent phasing through objects
Game Icon changes
New special effects when picking up coins or winning, with new FX
Batcoins!
Fixed Checkpoints in Racing Mode
Colosseum and Space Pine redesign
Improved player spawn
Better Racing Mode Physics
Produced by Sourena Games Studio media department